Who We Serve
As a WRLA member, you'll be tapping into a huge network of other members from across Western Canada.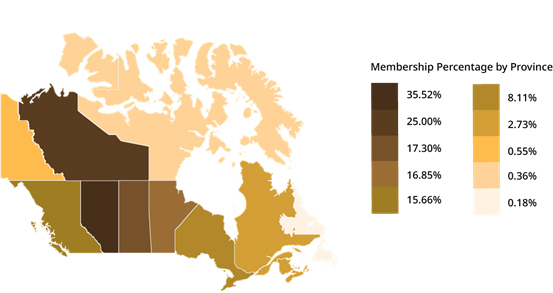 WRLA Membership Across Canada
WRLA offers three membership levels: retail, associate and affiliate. Each level is based on what you do in the industry. WRLA connects retailers to vendors and both to experts in the industry to help your business and career grow.
Fun fact: Our membership also extends into the United Kingdom and the United States of America.
For more information on membership and how to become a member, click here.
Construct Your Network
As a WRLA member, you can connect with people and businesses in the lumber and building supply industry from across Western Canada. Our members are highly engaged, knowledgeable and involved in their communities – we hear time and again that connecting with one another is a highlight for members and one of the reasons that they continue their memberships.
What can networking do for you and your business?
Business Connections
One of the most effective ways to develop your business is to meet other people who are doing similar things. By connecting to key players in the lumber and building supply industry, you'll discover new avenues for growth, and potential partners, buyers and sellers. Building professional relationships with others in your market is one of the easiest and most effective ways to stay up to date on trends, changes and opportunities.
Mentorship and Collaboration
If you're a new business owner, joining WRLA is a great way to meet and work with mentors who can offer guidance and insights based on their experience doing similar work. If you're a seasoned professional, you may find WRLA is an opportunity to share your knowledge with others and make a positive impact in the industry. Wherever you're at in your career, connecting with others is key to your success.
Beyond Work
We have seen many of our members form real, lifelong friendships that extend far beyond the store, office or trade show floor. One of the most rewarding parts of being a WRLA member is connecting with people from throughout the country that you otherwise might not have had a chance to. WRLA hosts and supports networking events across Western Canada, from golf tournaments to educational training courses. There are many ways that you can develop these relationships.
ATTRACT. CONNECT. EDUCATE. ADVOCATE.